Home | Tack | Customs | Dolls | Japan Horses
About Me | Keystone State Live! | E-mail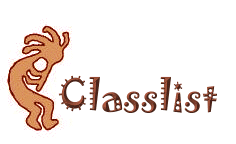 Please don't copy or plan on this classlist yet as it is not NAMHSA approved.
If you have any suggestions for classes please contact me so we can incorporate them.
This is your chance to look over the classes and make suggestions!
This is a 2002 preliminary classlist.
Draft Harness
Costume/Parade
Other Western Performance
Western Working Events
Western Trail - Quarter Horse
Western Trail - Other Breeds
Western Pleasure - Quarter Horse
Western Pleasure - Other Breeds
Saddle seat Performance
Western Performance Ch/Res
Quarter Horse Performance Ch/Res
Factory Finish Plastic
Arabian Stallion
Arabian Mare/Gelding
Part Arabian
N-Q Arabian
OF Arabian Champ/Res
Friesian
Thoroughbred
European Warm blood
American Warm blood
N-Q Riding Horse
OF Riding Horse Champ/Res
Quarter Horse Stallion
Quarter Horse Mare/Gelding
Part Quarter Horse
N-Q Quarter Horse
OF Quarter Horse Champ/Res
Appaloosa
Paint
Mustang
N-Q Stock horse
OF Stock Champ/Res
Belgian
Clydesdale/Shire
Other Pure Draft Breed
Mixed Breed Draft
N-Q Draft Horse
OF Draft Horse Champ/Res
Ponies
Other Breed Not Listed
Long Ear
N-Q Pony/Long Ear
OF Pony/Long Ear Champ/Res
Saddlebred
Tennessee Walker
Morgan
N-Q Show Horse
Show horse Champ/Res
N-Q OF Champion/Reserve
Harness Performance
Jumper Over Fences
Hunter Over Fences
Other English Performance
Hunter seat Pleasure Stock Breeds
Hunter Seat Pleasure Other Breeds
English Trail
Dressage
English Performance Champ/Res
Other Performance Champ/Res
N-Q Performance Champ/Res
Resin Breed and Custom Breed
Arabian Stallion
Arabian Mare/Gelding
Part Arabian
Resin Arabian Champ/Res
CM Arabian Champ/Res
Friesian
Thoroughbred
European Warm blood
American Warm blood
Resin Riding Horse
CM Riding Horse Champ/Res
Quarter Horse Stallion
Quarter Horse Mare/Gelding
Part Quarter Horse
Resin Quarter Horse Champ/Res
CM Quarter Horse Champ/Res
Appaloosa
Paint
Mustang
Resin Stock horse Champ/Res
CM Stock Champ/Res
Belgian
Clydesdale/Shire
Other Pure Draft Breed
Mixed Breed Draft
Resin Draft horse Champ/Res
CM Draft Horse Champ/Res
Ponies
Other Breed Not Listed
Long Ear
Resin Pony/Long Ear Champ/Res
CM Pony/Long Ear Champ/Res
Saddlebred
Tennessee Walker
Morgan
Resin Show horse Champ/Res
Custom Show horse Champ/Res
Foal/Yearling
Hunter type
Pleasure Type
Pony Breeds
Draft Breeds
OF Foal/Yearling Ch/Res
CM/Resin Foal/Yearling
OF China Collector
BHR/Breyer OF Resins
Ceramic or Other USA make
Other/Japan/unknown manufacturer
<5" Hagen-Renaker
>6" Hagen-Renaker
North Light
Other European Manufacturer
China Collector Champ/Res
OF China Breed
Light Breed
Sport Breed
Stock Breed
Draft Breed
Pony Breed
China Breed Champ/Res
OF Vintage Plastic Collector
Test Run - L E - One of a kind
Decorator/Unrealistic Color
Wood grain - Vintage
Flocked/Chalky/Pearlie
Classic or Little Bit size
Stablemate size
Vintage Plastic Champ/Res
OF Modern Plastic Collector
Test Run - One of a Kind
Decorator/Unrealistic Color
Wood grain - Modern
Connoisseur/JAH Series
Unrealistic Color
Classic or Little Bit size
Stablemate size
Modern Plastic Champ/Res
Collectors Classes 5 or more
Breyer
China
Other

Home | Tack | Customs | Dolls | Japan Horses
About Me | Keystone State Live! | E-mail